Cutaneous manifestations in pregnancy: Generalities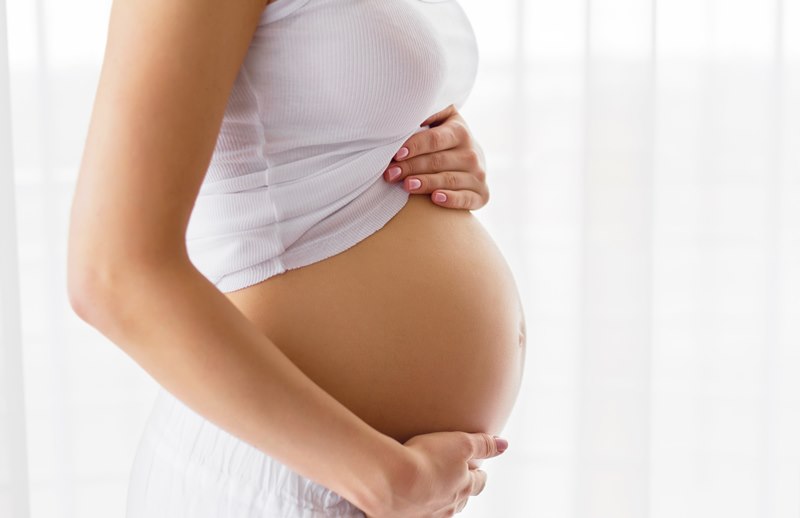 Pregnancy is a physiological condition, but it can be aggravated by a series of cutaneo-mucous manifestations, which include a heterogeneous group of inflammatory skin diseases, some regarded as physiological, others – pathological diseases called "Specific dermatoses of pregnancy". Some of these diseases can cause problems regarding only mother's health, but others may affect the foetus and can cause premature birth or perinatal death of the child. Early diagnosis and prompt treatment are essential for improving the maternal and foetal prognosis.
Induced dermatosis of pregnancy are rare diseases, generally benign, except being Impetigo herpetiformis. They appear only during the geastation period, having different degrees of severity, disappearing after the expulsion of the conceptus and having the possibility to reoccur in a new pregnancy.
The pathogenesis of dermatosis of pregnancy, except for Herpes Hestationis is still unknown. The risk factors, exogenous or endogenous, which are able to stimulate the emergence, relapse or worsening of these problems are: hormones (estrogen, progesterone), genetic predisposition, autoimmunity, sun exposure, age (under 20), liver disease, food deficiencies, anemia, hormonal disorders, infections and psycho-affective status of the pregnant women.
Prurigo Gravidarum is the most common pruritic papulo-pustular dermatosis of pregnancy with an incidence of 2% in universal literature and approximately 0.8% in Europe. Acute Pruritus Gravidarum is considered a subtle form of intrahepatic cholestasis with a frequency of 1/10.000 of pregnant in the USA, in Europe approximately 3% and 4-8% in South America.
Papular Dermatosis of Pregnancy is rare, as well as Erythema Toxemia of the pregnant woman (frequency of 1 / 120 women with dermatosis). In Europe Pruritic Folliculitis of pregnancy has an incidence of 0.2%. One of the most common dermatosis of pregnancy, Urticaria of Pregnancy (Pruritic Urticarial Papules and Plaques of Pregnancy), has a frequency of 1/160-240 of pregnant women, affecting especially white women.
Herpes Gestationis which affects especially white women, has an incidence wich variates from statistics to another (1/3000-50.000), more frequent in Central Europe. Impetigo Herpetiformis is considered an exudative form of psoriasis with a particular evolution gived by pregnancy and is rare. In the following decades, we consider that the study of these diseases will become a major public health concern because the prevalence of the atopic field and other risk factors involved in their etiopathogenesis.
A number of factors are responsible for the physiological changes of the skin during pregnancy. Fetoplacental hormone synthesis or alteration of clearance may increase the bioavailability of plasma estrogens, progesterone, and androgens. There has been proved that accumulation of sex steroids has a modifying effect on skin diseases. There are also deep changes in the bioavailability or concentration of some adrenal steroids, including cortisol, aldosterone, and deoxychorticosterone.
Furthermore, probably as a result of the hypertrophy of intermediate lobe of the pituitary gland, the plasma level of the melanocyte-stimulating hormone (MSH) is extremely high starting at 8 weeks of gestation. The production of pro-opiomelanocortin in placental extracts has been demonstrated, which is an ultimate source of MSH. Tropic hormones and neuropeptides, whereas some of them are produced by trophoblastic cells, can also play a significant role in the pathophysiology of skin and hair changes.
Endothelial fetal cells become grafts in maternal skin cells. This phenomenon has been associated with maternal autoimmune diseases such as lupus, sclerosis, Hashimoto's thyroiditis etc.
Nota redacţiei:
Acest text face parte din ghidul "Dermatological disorders and pregnancy", destinat studenţilor anglofoni, în curs de apariţie la USMF "Nicolae Testemiţanu" din Republica Moldova.
Autori:
Luminița Mihalcean, doctor în ştiinţe medicale, asistent universitar, Catedra Obstetrică și Ginecologie;
Hristiana Caproș, doctor în ştiinţe medicale, asistent universitar, Catedra Obstetrică și Ginecologie.
Recenzenţi:
Boris Nedelciuc, doctor în ştiinţe medicale, conferenţiar universitar, Catedra Dermatovenerologie;
Stelian Hodorogea, doctor în ştiinţe medicale, conferenţiar universitar, Catedra Obstetrică și Ginecologie.
Bibliografia la autori.