Is the taboo around male make-up disappearing?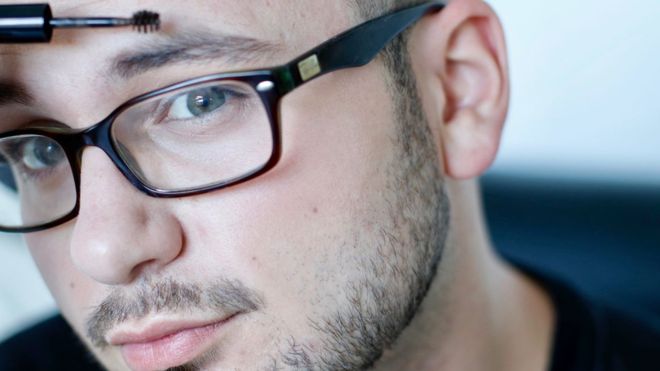 A growing number of young men are wearing make-up and big brands are embracing the trend. Could the stigma around male cosmetics finally be disappearing?
Gianni Casagrande began wearing make-up about three years ago.
The 22-year-old from Middlesbrough says he had "really bad acne" and started using concealer to hide his blemishes.
Impressed by the results, he moved on to wearing a tinted skin primer – or "BB cream" – on nights out and a brow styling gel to control his "bushy" eyebrows.
"There is definitely still a stigma around men's make-up, but I think it's becoming more normal now," the social media strategist and beauty blogger says.
"A lot more of my friends are wearing it, both gay and straight – it makes you feel a lot more comfortable and confident."
With men from popular reality TV shows like Geordie Shore and Made in Chelsea endorsing cosmetics, and beauty bloggers and brands championing the trend, male make-up is in the limelight.
In August 2017, L'Oreal's UK boss, Vismay Sharma, said it was no longer a taboo for the "selfie generation" to use cosmetics and that we could see male-targeted make-up counters in department stores in "five to seven years".
For read the full text click here:
http://www.bbc.com/news/business-41971587
These are the six biggest fashion looks for 2018 – https://e-dermatologie.md/these-are-the-six-biggest-fashion-looks-for-2018/
Is this what real beauty looks like? – https://e-dermatologie.md/is-this-what-real-beauty-looks-like/
The secret to a long and healthy life? Eat less – https://e-dermatologie.md/the-secret-to-a-long-and-healthy-life-eat-less/
Why vitamin pills don't work, and may be bad for you – https://e-dermatologie.md/why-vitamin-pills-dont-work-and-may-be-bad-for-you/