Fashion lookahead: Seven major looks for 2020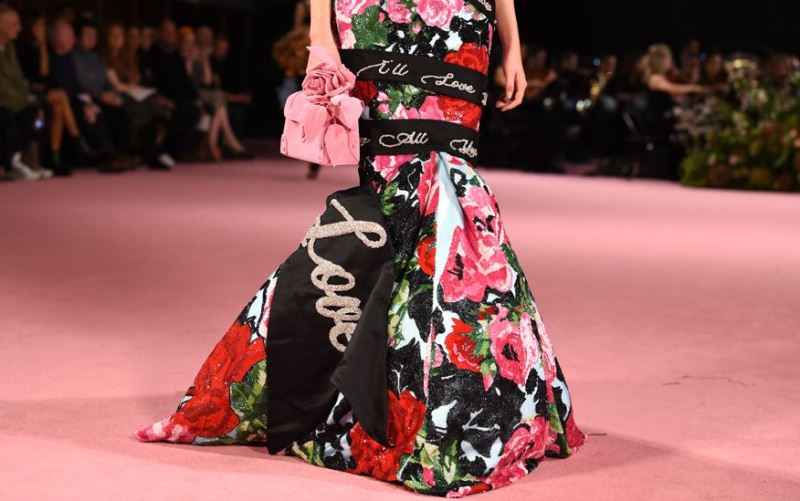 Floral designs are just one fashion trend set to return in a big way this spring, having been shown extensively at September's Fashion Weeks.
Not all the outfits which were showcased in Paris, Milan, London and New York will make it onto the high street in the exact form we saw them on the catwalk.
But elements of the clothes on show – whether it be an idea, colour, material or pattern – are picked up and copied by other designers, and heavily influence what we see in the shops a few months later.
"Retailers must determine which looks they think we're actually going to buy, manufacturers must begin producing those items en masse," explains The Telegraph's Tamara Abraham. "And then brand marketing machines must work out how to promote and merchandise the new stock in a way that will convince us to spend our cash."
Here are seven major fashion looks you can expect to see (and maybe wear) in 2020.
Neon;
Buttery, colourful leather;
Big bags;
Tangerine;
Rose prints;
Disco collars;
Rope belts and bucket hats.
For read the full text click here:
https://www.bbc.com/news/entertainment-arts-50087110
The peculiar bathroom habits of Westerners – https://e-dermatologie.md/the-peculiar-bathroom-habits-of-westerners/
The benefits of going bald – https://e-dermatologie.md/the-benefits-of-going-bald/
Five tech trends shaping the beauty industry – https://e-dermatologie.md/five-tech-trends-shaping-the-beauty-industry/
How much water should you drink a day? – https://e-dermatologie.md/how-much-water-should-you-drink-a-day/
Why do women live longer than men? – https://e-dermatologie.md/why-do-women-live-longer-than-men/
Skinny genes the 'secret to staying slim' – https://e-dermatologie.md/skinny-genes-the-secret-to-staying-slim/
Why you don't really have a 'type' – https://e-dermatologie.md/why-you-dont-really-have-a-type/
Can social networks help you lose weight? – https://e-dermatologie.md/can-social-networks-help-you-lose-weight/
Low-calorie shakes and soup diets 'recommended for obese' – https://e-dermatologie.md/low-calorie-shakes-and-soup-diets-recommended-for-obese/
Probiotics labelled 'quite useless' – https://e-dermatologie.md/probiotics-labelled-quite-useless/
The reasons why women's voices are deeper today – https://e-dermatologie.md/the-reasons-why-womens-voices-are-deeper-today/
The people who cannot smile – https://e-dermatologie.md/the-people-who-cannot-smile/
Potential new cure found for baldness – https://e-dermatologie.md/potential-new-cure-found-for-baldness/
Five things you might be surprised affect weight – https://e-dermatologie.md/five-things-you-might-be-surprised-affect-weight/
What is the 'ideal' female body shape? – https://e-dermatologie.md/what-is-the-ideal-female-body-shape/
Is the taboo around male make-up disappearing? – https://e-dermatologie.md/is-the-taboo-around-male-make-up-disappearing/
These are the six biggest fashion looks for 2018 – https://e-dermatologie.md/these-are-the-six-biggest-fashion-looks-for-2018/
Is this what real beauty looks like? – https://e-dermatologie.md/is-this-what-real-beauty-looks-like/
The secret to a long and healthy life? Eat less – https://e-dermatologie.md/the-secret-to-a-long-and-healthy-life-eat-less/
Why vitamin pills don't work, and may be bad for you – https://e-dermatologie.md/why-vitamin-pills-dont-work-and-may-be-bad-for-you/