Would you pay your ex a "break-up fee"?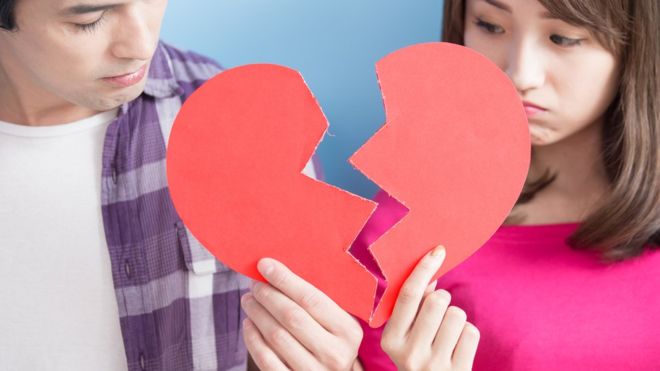 Earlier this month, police in the eastern Chinese city of Hangzhou responded to a call after bar staff reported finding a suspicious suitcase.
It contained two million yuan in cash ($314,204; £233,323) – an extraordinary amount of money, maybe even life-changing.
They managed to track down the owner, who according to the local police, had arranged to meet with his ex-girlfriend in the bar.
The money? It was a "break-up fee" a new trend in Chinese dating.
Everyone knows that dating can be expensive; forking out a bit of cash to buy drinks or meals in the early stages of a relationship, or buying gifts and holidays later on.
No longer content to just have the awkward meeting to hand each others' stuff back, break-up fees have emerged in recent years in China as a sort of compensation at the end of a long-term relationship.
While not legally binding, it's a bit like one party giving their former partner a divorce settlement.
It's the person that ends the relationship that pays the fee. They decide, based on the amount of time, effort and money they have invested in the relationship, how much money they should give to their former partner.
For read the full text click here:
https://www.bbc.com/news/world-asia-china-44078961
"I'm sad that I didn't have sex until I was 37" – https://e-dermatologie.md/im-sad-that-i-didnt-have-sex-until-i-was-37/
Sex addiction: "Five times a day wasn't enough" – https://e-dermatologie.md/sex-addiction-five-times-a-day-wasnt-enough/
Premenstrual dysphoric disorder – a severe form of Premenstrual syndrome – https://e-dermatologie.md/premenstrual-dysphoric-disorder-a-severe-form-of-premenstrual-syndrome/
I want to break the stigma of painful sex – https://e-dermatologie.md/i-want-to-break-the-stigma-of-painful-sex/
The adult webcam industry – https://e-dermatologie.md/the-adult-webcam-industry/
The many reasons that people are having less sex – https://e-dermatologie.md/the-many-reasons-that-people-are-having-less-sex/
The invention of heterosexuality – https://e-dermatologie.md/the-invention-of-heterosexuality/