Beauty professionals hope for prettier picture in 2021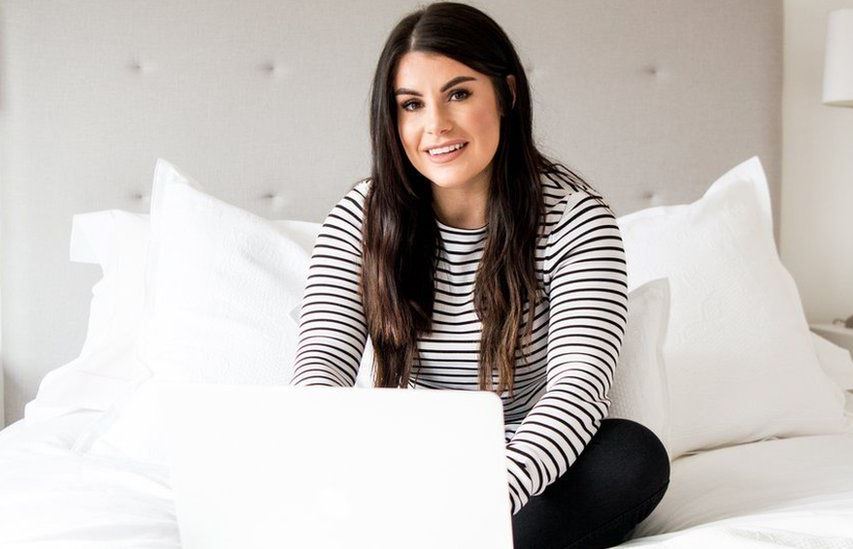 Beauty salons have been greatly affected by this year's pandemic. With the first Covid-19 vaccines now being administered, we speak to six industry professionals about how they have coped with 2020, and their hopes for the future.
Elizabeth Chandler says that after a tough year "the vaccine could be great for the industry".
She is the owner of London-based eyelash extension business – Elizabeth Chandler Lashes – whose clients include model Cara Delevingne, singer Nicole Scherzinger, fashion designers, and dancers on the TV show Strictly Come Dancing.
Like all UK beauty treatment businesses, she had to shut up shop in March, given the close face-to-face nature of much of her work.
"My income went to zero for six months," says Ms Chandler. "I built my business for 13 years, and I was unable to work for half a year. [Previously] I have never been out of work in my life."
In a bid to retain her clients Ms Chandler held weekly free Zoom tutorials, before finally reopening in August – only to have to shut again during England's second lockdown in November.
"Any mass vaccination programme will take a long time to roll out," she says. "But the tier system as it stands means we [in London, currently tier two] can all open and continue to work, which is wonderful."
For read the full text click here:
https://www.bbc.com/news/business-54635807
Five tech trends shaping the beauty industry – https://e-dermatologie.md/five-tech-trends-shaping-the-beauty-industry-2/
Taiwan's 2,000 year-old knife massage – https://e-dermatologie.md/taiwans-2000-year-old-knife-massage/
How a teenager had 30 cosmetic procedures without showing ID? – https://e-dermatologie.md/how-a-teenager-had-30-cosmetic-procedures-without-showing-id/
Social media pressure is linked to cosmetic procedure boom – https://e-dermatologie.md/social-media-pressure-is-linked-to-cosmetic-procedure-boom/
Fashion lookahead: Seven major looks for 2020 – https://e-dermatologie.md/fashion-lookahead-seven-major-looks-for-2020/
The peculiar bathroom habits of Westerners – https://e-dermatologie.md/the-peculiar-bathroom-habits-of-westerners/
The benefits of going bald – https://e-dermatologie.md/the-benefits-of-going-bald/
Five tech trends shaping the beauty industry – https://e-dermatologie.md/five-tech-trends-shaping-the-beauty-industry/
How much water should you drink a day? – https://e-dermatologie.md/how-much-water-should-you-drink-a-day/
Why do women live longer than men? – https://e-dermatologie.md/why-do-women-live-longer-than-men/
Skinny genes the 'secret to staying slim' – https://e-dermatologie.md/skinny-genes-the-secret-to-staying-slim/
Why you don't really have a 'type' – https://e-dermatologie.md/why-you-dont-really-have-a-type/
Can social networks help you lose weight? – https://e-dermatologie.md/can-social-networks-help-you-lose-weight/
Low-calorie shakes and soup diets 'recommended for obese' – https://e-dermatologie.md/low-calorie-shakes-and-soup-diets-recommended-for-obese/
Probiotics labelled 'quite useless' – https://e-dermatologie.md/probiotics-labelled-quite-useless/
The reasons why women's voices are deeper today – https://e-dermatologie.md/the-reasons-why-womens-voices-are-deeper-today/
The people who cannot smile – https://e-dermatologie.md/the-people-who-cannot-smile/
Potential new cure found for baldness – https://e-dermatologie.md/potential-new-cure-found-for-baldness/
Five things you might be surprised affect weight – https://e-dermatologie.md/five-things-you-might-be-surprised-affect-weight/
What is the 'ideal' female body shape? – https://e-dermatologie.md/what-is-the-ideal-female-body-shape/
Is the taboo around male make-up disappearing? – https://e-dermatologie.md/is-the-taboo-around-male-make-up-disappearing/
These are the six biggest fashion looks for 2018 – https://e-dermatologie.md/these-are-the-six-biggest-fashion-looks-for-2018/
Is this what real beauty looks like? – https://e-dermatologie.md/is-this-what-real-beauty-looks-like/
The secret to a long and healthy life? Eat less – https://e-dermatologie.md/the-secret-to-a-long-and-healthy-life-eat-less/
Why vitamin pills don't work, and may be bad for you – https://e-dermatologie.md/why-vitamin-pills-dont-work-and-may-be-bad-for-you/