K-beauty: The rise of Korean make-up in the West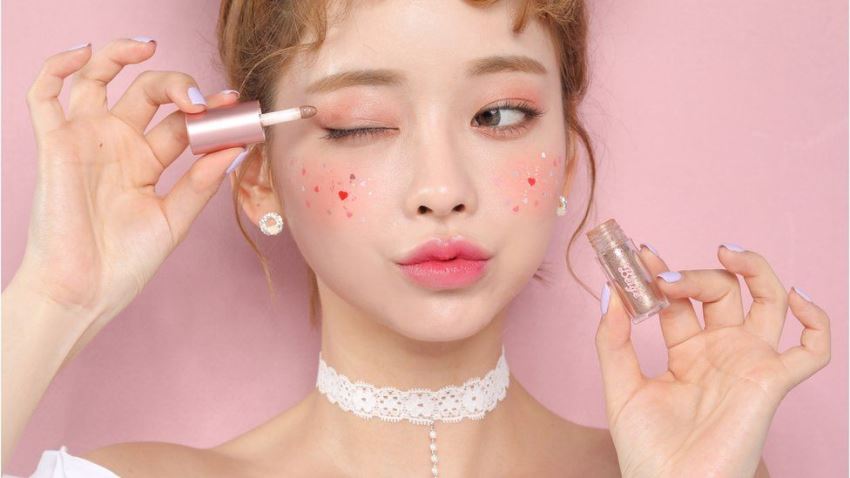 For thousands of years the fashion conscious have used make-up to get their look just right, and keep up with fast-moving trends. Now, the global beauty industry is experiencing a revolution driven by South Korea. Say hello to K-beauty.
Young people in Western countries have become infatuated with K-pop – Korean pop music – and Korean soap operas.
Many Korean celebrities and pop stars, including the seven-member boy band BTS, are known for their signature looks.
But it's not just Korean entertainment – in the last 18 months, there has also been a rise in Korean beauty trends coming over to the West.
In 2017, South Korea's beauty industry was estimated to be worth just over $13bn (£10bn), according to retail researchers Mintel.
The fascination with Korean cosmetics is due to how innovative they are, says Marie Claire's digital beauty editor Katie Thomas.
South Korea's beauty industry is typically about 10-12 years ahead of the rest of the world, she says.
"It's not that there's been a big boom, we're just catching up with them essentially, [helped by] the expansion of Instagram and beauty blogging."
Before even putting any make-up on, Koreans put in a lot of effort to take care of their skin.
"It's sort of ingrained in Korean culture from a very young age to look after your skin," Ms Thomas says, explaining that the Korean ethos is to ensure that you have good skin, rather than needing foundation and other products to cover up unsightly blemishes.
You might be used to the typical daily three-step routine of using cleanser, toner and moisturiser before applying make-up, but in South Korea, skincare regimes range from seven to 12 steps, with a focus on hydrating the skin using gentle, natural ingredients.
For read the full text click here:
https://www.bbc.com/news/business-45820671
Why 'quirky' people are attractive – https://e-dermatologie.md/why-quirky-people-are-attractive/
Beauty industry bullying: 'I saw strong women cry at their desks' – https://e-dermatologie.md/beauty-industry-bullying-i-saw-strong-women-cry-at-their-desks/
My beautician saved my life from deadly skin cancer – https://e-dermatologie.md/my-beautician-saved-my-life-from-deadly-skin-cancer/
Why do women appear to bear the brunt of ageism at work? – https://e-dermatologie.md/why-do-women-appear-to-bear-the-brunt-of-ageism-at-work/
Why some people like wearing masks – https://e-dermatologie.md/why-some-people-like-wearing-masks/
Beauty professionals hope for prettier picture in 2021 – https://e-dermatologie.md/beauty-professionals-hope-for-prettier-picture-in-2021/
Five tech trends shaping the beauty industry – https://e-dermatologie.md/five-tech-trends-shaping-the-beauty-industry-2/
Taiwan's 2,000 year-old knife massage – https://e-dermatologie.md/taiwans-2000-year-old-knife-massage/
How a teenager had 30 cosmetic procedures without showing ID? – https://e-dermatologie.md/how-a-teenager-had-30-cosmetic-procedures-without-showing-id/
Social media pressure is linked to cosmetic procedure boom – https://e-dermatologie.md/social-media-pressure-is-linked-to-cosmetic-procedure-boom/
Fashion lookahead: Seven major looks for 2020 – https://e-dermatologie.md/fashion-lookahead-seven-major-looks-for-2020/
The peculiar bathroom habits of Westerners – https://e-dermatologie.md/the-peculiar-bathroom-habits-of-westerners/
The benefits of going bald – https://e-dermatologie.md/the-benefits-of-going-bald/
Five tech trends shaping the beauty industry – https://e-dermatologie.md/five-tech-trends-shaping-the-beauty-industry/
How much water should you drink a day? – https://e-dermatologie.md/how-much-water-should-you-drink-a-day/
Why do women live longer than men? – https://e-dermatologie.md/why-do-women-live-longer-than-men/
Skinny genes the 'secret to staying slim' – https://e-dermatologie.md/skinny-genes-the-secret-to-staying-slim/
Why you don't really have a 'type' – https://e-dermatologie.md/why-you-dont-really-have-a-type/
Can social networks help you lose weight? – https://e-dermatologie.md/can-social-networks-help-you-lose-weight/
Low-calorie shakes and soup diets 'recommended for obese' – https://e-dermatologie.md/low-calorie-shakes-and-soup-diets-recommended-for-obese/
Probiotics labelled 'quite useless' – https://e-dermatologie.md/probiotics-labelled-quite-useless/
The reasons why women's voices are deeper today – https://e-dermatologie.md/the-reasons-why-womens-voices-are-deeper-today/
The people who cannot smile – https://e-dermatologie.md/the-people-who-cannot-smile/
Potential new cure found for baldness – https://e-dermatologie.md/potential-new-cure-found-for-baldness/
Five things you might be surprised affect weight – https://e-dermatologie.md/five-things-you-might-be-surprised-affect-weight/
What is the 'ideal' female body shape? – https://e-dermatologie.md/what-is-the-ideal-female-body-shape/
Is the taboo around male make-up disappearing? – https://e-dermatologie.md/is-the-taboo-around-male-make-up-disappearing/
These are the six biggest fashion looks for 2018 – https://e-dermatologie.md/these-are-the-six-biggest-fashion-looks-for-2018/
Is this what real beauty looks like? – https://e-dermatologie.md/is-this-what-real-beauty-looks-like/
The secret to a long and healthy life? Eat less – https://e-dermatologie.md/the-secret-to-a-long-and-healthy-life-eat-less/
Why vitamin pills don't work, and may be bad for you – https://e-dermatologie.md/why-vitamin-pills-dont-work-and-may-be-bad-for-you/