The revival of ancient beauty rituals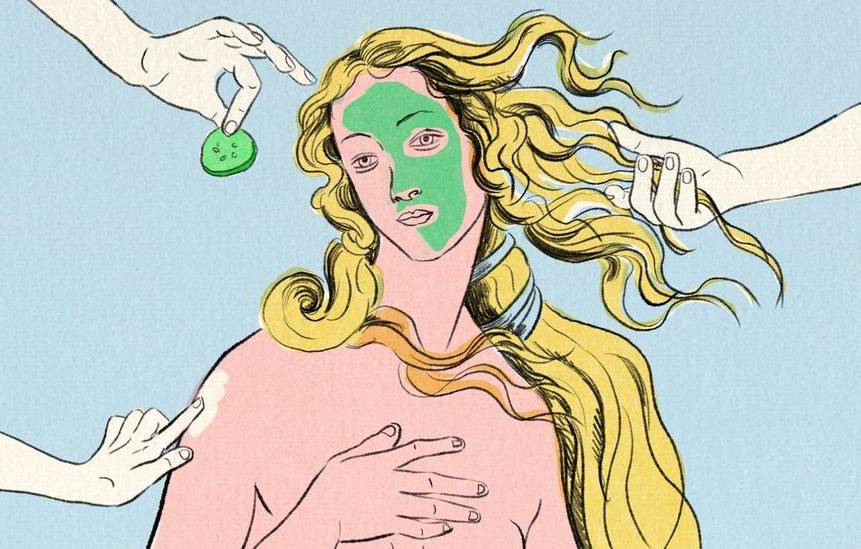 Beauty and grooming wisdom from thousands of years ago is increasingly in demand. Bel Jacobs explores the ancestral methods that are helping people to live more consciously, for themselves and for the planet.
In the 1963 film Cleopatra, Elizabeth Taylor's Egyptian queen rejects an invitation from Marc Anthony's envoy, while sitting naked in a milky flower-filled bath, idly toying with a golden boat. The film may have had its issues – famously, the spats between Taylor and her co-star lover Richard Burton – but the iconography is familiar: in ancient Egypt, queens and goddesses were renowned for their power and sensuality, for their deep associations with the natural world, and with motherhood and healing. Taylor's Cleopatra is frequently shown bathing and being pampered, as she would have been in real life: the beauty rituals of wealthy ancient Egyptians were lengthy and complicated, beginning with long milk baths infused with saffron oil.
Neither element was accidental: the lactic acid in milk would have helped exfoliate the skin, while saffron has been used to treat a variety of conditions for thousands of years. The spice is carefully harvested from the orange stigmas of the purple Crocus sativus flower. Grown in the hot dry belt of land that runs from Spain in the west to Kashmir in the east, the spice is known as "red gold" for the intensity and price of its production. Flowers must be picked at dawn by hand, and those thin threads delicately scraped. It takes almost 5,000 flowers to yield just one ounce of saffron threads. Prices are already high and, as climate change threatens farming, they're set to go higher.
Set against the futuristic appeal of some of today's top-selling products, the earthy reality of saffron's origins may sound irrelevant. Who cares where things come from, as we scoop a soft whip of the latest £80 mega cream from its pot? Quite a few of us, it appears. A 2021 report by the NPD Group found that 68% of consumers want skin care formulated with "clean" ingredients (broadly, without PFAs, parabens and phthalates). Answering calls for greater accountability in the industry, a group of beauty mega brands have launched the EcoBeautyScore Consortium, set to establish a global transparency environmental impact scoring system.
For read the full text click here:
https://www.bbc.com/culture/article/20220408-the-revival-of-ancient-beauty-rituals
The 10 most iconic jewels through history – https://e-dermatologie.md/the-10-most-iconic-jewels-through-history/
The secret Victorian language that's back in fashion – https://e-dermatologie.md/the-secret-victorian-language-thats-back-in-fashion/
12 unforgettable style moments of 2022 – https://e-dermatologie.md/12-unforgettable-style-moments-of-2022/
The YouTuber making millions from true crime and make-up – https://e-dermatologie.md/the-youtuber-making-millions-from-true-crime-and-make-up/
Linda Evangelista back on Vogue cover after being 'deformed' by procedure – https://e-dermatologie.md/linda-evangelista-back-on-vogue-cover-after-being-deformed-by-procedure/
Non-surgical beauty treatments: Undercover on a facelift training course – https://e-dermatologie.md/non-surgical-beauty-treatments-undercover-on-a-facelift-training-course/
Women wear less make-up since the pandemic – https://e-dermatologie.md/women-wear-less-make-up-since-the-pandemic/
The myth of universal beauty – https://e-dermatologie.md/the-myth-of-universal-beauty/
K-beauty: The rise of Korean make-up in the West – https://e-dermatologie.md/k-beauty-the-rise-of-korean-make-up-in-the-west/
Why 'quirky' people are attractive – https://e-dermatologie.md/why-quirky-people-are-attractive/
Beauty industry bullying: 'I saw strong women cry at their desks' – https://e-dermatologie.md/beauty-industry-bullying-i-saw-strong-women-cry-at-their-desks/
My beautician saved my life from deadly skin cancer – https://e-dermatologie.md/my-beautician-saved-my-life-from-deadly-skin-cancer/
Why do women appear to bear the brunt of ageism at work? – https://e-dermatologie.md/why-do-women-appear-to-bear-the-brunt-of-ageism-at-work/
Why some people like wearing masks – https://e-dermatologie.md/why-some-people-like-wearing-masks/
Beauty professionals hope for prettier picture in 2021 – https://e-dermatologie.md/beauty-professionals-hope-for-prettier-picture-in-2021/
Five tech trends shaping the beauty industry – https://e-dermatologie.md/five-tech-trends-shaping-the-beauty-industry-2/
Taiwan's 2,000 year-old knife massage – https://e-dermatologie.md/taiwans-2000-year-old-knife-massage/
How a teenager had 30 cosmetic procedures without showing ID? – https://e-dermatologie.md/how-a-teenager-had-30-cosmetic-procedures-without-showing-id/
Social media pressure is linked to cosmetic procedure boom – https://e-dermatologie.md/social-media-pressure-is-linked-to-cosmetic-procedure-boom/
Fashion lookahead: Seven major looks for 2020 – https://e-dermatologie.md/fashion-lookahead-seven-major-looks-for-2020/
The peculiar bathroom habits of Westerners – https://e-dermatologie.md/the-peculiar-bathroom-habits-of-westerners/
The benefits of going bald – https://e-dermatologie.md/the-benefits-of-going-bald/
Five tech trends shaping the beauty industry – https://e-dermatologie.md/five-tech-trends-shaping-the-beauty-industry/
How much water should you drink a day? – https://e-dermatologie.md/how-much-water-should-you-drink-a-day/
Why do women live longer than men? – https://e-dermatologie.md/why-do-women-live-longer-than-men/
Skinny genes the 'secret to staying slim' – https://e-dermatologie.md/skinny-genes-the-secret-to-staying-slim/
Why you don't really have a 'type' – https://e-dermatologie.md/why-you-dont-really-have-a-type/
Can social networks help you lose weight? – https://e-dermatologie.md/can-social-networks-help-you-lose-weight/
Low-calorie shakes and soup diets 'recommended for obese' – https://e-dermatologie.md/low-calorie-shakes-and-soup-diets-recommended-for-obese/
Probiotics labelled 'quite useless' – https://e-dermatologie.md/probiotics-labelled-quite-useless/
The reasons why women's voices are deeper today – https://e-dermatologie.md/the-reasons-why-womens-voices-are-deeper-today/
The people who cannot smile – https://e-dermatologie.md/the-people-who-cannot-smile/
Potential new cure found for baldness – https://e-dermatologie.md/potential-new-cure-found-for-baldness/
Five things you might be surprised affect weight – https://e-dermatologie.md/five-things-you-might-be-surprised-affect-weight/
What is the 'ideal' female body shape? – https://e-dermatologie.md/what-is-the-ideal-female-body-shape/
Is the taboo around male make-up disappearing? – https://e-dermatologie.md/is-the-taboo-around-male-make-up-disappearing/
These are the six biggest fashion looks for 2018 – https://e-dermatologie.md/these-are-the-six-biggest-fashion-looks-for-2018/
Is this what real beauty looks like? – https://e-dermatologie.md/is-this-what-real-beauty-looks-like/
The secret to a long and healthy life? Eat less – https://e-dermatologie.md/the-secret-to-a-long-and-healthy-life-eat-less/
Why vitamin pills don't work, and may be bad for you – https://e-dermatologie.md/why-vitamin-pills-dont-work-and-may-be-bad-for-you/