Love and sex in 2022: The five biggest lessons of the year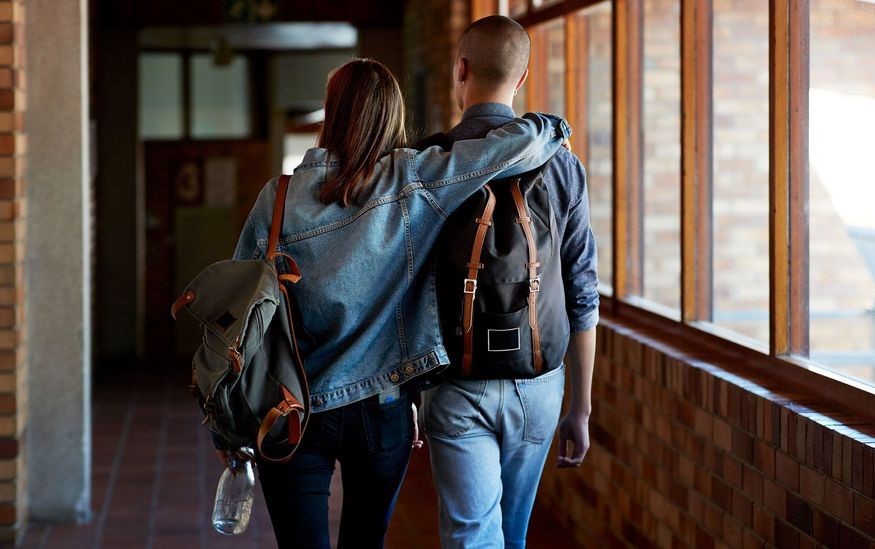 Shedding binaries, shaking off taboos and more – in a year with big events and changes, love and sex looked different, too.
The ways we think about sex and love are always evolving, constantly influenced by cultural, political and global happenings.
This year was no different. Much of that influence particularly spread online, especially in communities by and for those who identify across the LGBTQIA+ spectrum. Meanwhile, ripple effects from the self-reflection undertaken throughout the Covid-19 pandemic continued to rock the wider dating world, resulting in more intentional practices. People thought more about who they wanted to date, and how they wanted to do it.
In 2022, this meant more folks openly moved away from both gender and attraction binaries. We saw people rely even more on the internet to find potential partners, for better and for worse. And daters got increasingly vocal about exploring different types of relationships, from solo polyamory to platonic life partnerships.
In Western culture, relationships, gender and sexuality have long been defined by binaries. Either a couple is dating or they're not; a person is attracted to women or men; a person is either a woman or man. Throughout the past several years, however, these binaries have grown steadily less entrenched, as more people are looking at sexual orientations and gender identities in different ways. And this was especially pronounced in 2022.
As far as sexual orientation, a person's gender has become less relevant for many people when looking for a partner; this is especially the case for many millennials and Gen Zers navigating intimate relationships. For some, it's even ended up at the "bottom of the list" in terms of what they desire in a partner. That's particularly true for people who identify as queer or pansexual, meaning their romantic and/or sexual attractions don't hinge on gender.
For read the full text click here:
https://www.bbc.com/worklife/article/20221214-love-and-sex-in-2022-the-five-biggest-lessons-of-the-year
The exes forced to live together after breaking up – https://e-dermatologie.md/the-exes-forced-to-live-together-after-breaking-up/
Iranian women who need certificates to prove they are virgins – https://e-dermatologie.md/iranian-women-who-need-certificates-to-prove-they-are-virgins/
'I was humiliated': The continuing trauma of South Korea's spy cam victims – https://e-dermatologie.md/i-was-humiliated-the-continuing-trauma-of-south-koreas-spy-cam-victims/
How accurate are our first impressions? – https://e-dermatologie.md/how-accurate-are-our-first-impressions/
Why meeting another's gaze is so powerful? – https://e-dermatologie.md/why-meeting-anothers-gaze-is-so-powerful/
Are we set for a new sexual revolution? – https://e-dermatologie.md/are-we-set-for-a-new-sexual-revolution/
Can you make yourself sound more attractive? – https://e-dermatologie.md/can-you-make-yourself-sound-more-attractive/
Why single people smell different – https://e-dermatologie.md/why-single-people-smell-different/
The reasons humans started kissing – https://e-dermatologie.md/the-reasons-humans-started-kissing/
Is Covid-19 changing our relationships? – https://e-dermatologie.md/is-covid-19-changing-our-relationships/
The dark side of believing in true love – https://e-dermatologie.md/the-dark-side-of-believing-in-true-love-2/
Sex and Covid: What are the rules in lockdown? – https://e-dermatologie.md/sex-and-covid-what-are-the-rules-in-lockdown/
How Hong Kong is modernizing love hotels – https://e-dermatologie.md/how-hong-kong-is-modernizing-love-hotels/
The saboteurs you can hire to end your relationship – https://e-dermatologie.md/the-saboteurs-you-can-hire-to-end-your-relationship/
Is love just a fleeting chemical high in the brain? – https://e-dermatologie.md/is-love-just-a-fleeting-chemical-high-in-the-brain/
Why promoted women are more likely to divorce? – https://e-dermatologie.md/why-promoted-women-are-more-likely-to-divorce/
What if women had total control over pregnancy? – https://e-dermatologie.md/what-if-women-had-total-control-over-pregnancy/
Virgin births: Do we need sex to reproduce? – https://e-dermatologie.md/virgin-births-do-we-need-sex-to-reproduce/
The benefits of rebounding after a break-up – https://e-dermatologie.md/the-benefits-of-rebounding-after-a-break-up/
Should prostitution be a normal profession? – https://e-dermatologie.md/should-prostitution-be-a-normal-profession/
'I'm 28 and I've never had an orgasm…' – https://e-dermatologie.md/im-28-and-ive-never-had-an-orgasm/
The dark side of believing in true love – https://e-dermatologie.md/the-dark-side-of-believing-in-true-love/
A new way to look at emotions – and how to master yours – https://e-dermatologie.md/a-new-way-to-look-at-emotions-and-how-to-master-yours/
The mystery of the female orgasm – https://e-dermatologie.md/the-mystery-of-the-female-orgasm/
Is it better to be like your partner? – https://e-dermatologie.md/is-it-better-to-be-like-your-partner/
Why sexual assault survivors forget details? – https://e-dermatologie.md/why-sexual-assault-survivors-forget-details/
Are other people's sex lives better than yours? – https://e-dermatologie.md/are-other-peoples-sex-lives-better-than-yours/
Could Love Island hold the key to lasting happiness? – https://e-dermatologie.md/could-love-island-hold-the-key-to-lasting-happiness/
I was a victim of forced marriage – https://e-dermatologie.md/i-was-a-victim-of-forced-marriage/
Is it possible to be unfaithful 'just a little bit'? – https://e-dermatologie.md/is-it-possible-to-be-unfaithful-just-a-little-bit/
Would you pay your ex a "break-up fee"? – https://e-dermatologie.md/would-you-pay-your-ex-a-break-up-fee/
"I'm sad that I didn't have sex until I was 37" – https://e-dermatologie.md/im-sad-that-i-didnt-have-sex-until-i-was-37/
Sex addiction: "Five times a day wasn't enough" – https://e-dermatologie.md/sex-addiction-five-times-a-day-wasnt-enough/
Premenstrual dysphoric disorder – a severe form of Premenstrual syndrome – https://e-dermatologie.md/premenstrual-dysphoric-disorder-a-severe-form-of-premenstrual-syndrome/
I want to break the stigma of painful sex – https://e-dermatologie.md/i-want-to-break-the-stigma-of-painful-sex/
The adult webcam industry – https://e-dermatologie.md/the-adult-webcam-industry/
The many reasons that people are having less sex – https://e-dermatologie.md/the-many-reasons-that-people-are-having-less-sex/
The invention of heterosexuality – https://e-dermatologie.md/the-invention-of-heterosexuality/