The couples taking relationship 'gap years'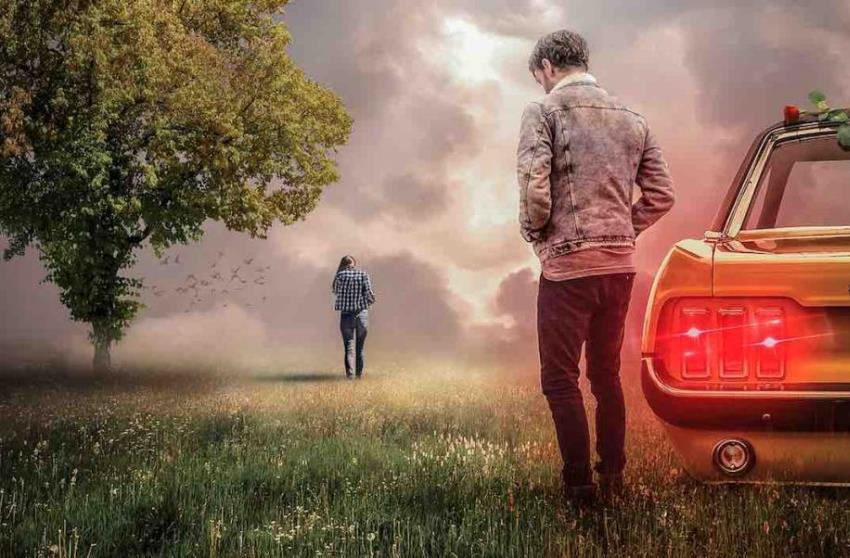 An increasing number of married couples are spending planned time apart. Does absence make the heart grow fonder?
Like many couples, Viva and her husband John had spent more than enough time with each other during the pandemic. Viva, who is 40 and originally from the Philippines, but lives in the UK, longed to spend time with her family when restrictions lifted, while John had work commitments at home.
But John had a suggestion.
Rather than either of them compromising on how they wanted to spend their time post-lockdowns, why not spend it apart? The couple were also healing from miscarriage, and they thought a breather could be good for them.
At first, Viva was unsure. She hadn't been away from John for a prolonged period since they were married seven years earlier. But she was eventually convinced – and she hasn't looked back. The couple are now three months into a planned separation, which Viva has spent in Manila with family. John has been able to visit his own family in Ireland, take work trips and is planning a vacation in Denmark.
Some people might think choosing to spend so much time apart would be the death knell of a relationship, but Viva and John have found that it has reinvigorated their marriage. "We keep in touch every day, through WhatsApp, Facebook and email," says Viva. "It's like going back to how it was at the start of our relationship."
Viva isn't the only one looking for a way out of her marriage, at least temporarily. Some counsellors and relationship therapists report coming across couples that don't see a desire to sample a new life without their partner as a sign that a relationship is over. Instead, some are choosing to take a so-called relationship 'gap-year', to give them the space to explore different interests, travel experiences and – in some cases – sexual partners.
But can a gap-year really strengthen a relationship, or is it a sign that couples are on course for a split?
For read the full text click here:
https://www.bbc.com/worklife/article/20220523-the-couples-taking-relationship-gap-years
Love and sex in 2022: The five biggest lessons of the year – https://e-dermatologie.md/love-and-sex-in-2022-the-five-biggest-lessons-of-the-year/
The exes forced to live together after breaking up – https://e-dermatologie.md/the-exes-forced-to-live-together-after-breaking-up/
Iranian women who need certificates to prove they are virgins – https://e-dermatologie.md/iranian-women-who-need-certificates-to-prove-they-are-virgins/
'I was humiliated': The continuing trauma of South Korea's spy cam victims – https://e-dermatologie.md/i-was-humiliated-the-continuing-trauma-of-south-koreas-spy-cam-victims/
How accurate are our first impressions? – https://e-dermatologie.md/how-accurate-are-our-first-impressions/
Why meeting another's gaze is so powerful? – https://e-dermatologie.md/why-meeting-anothers-gaze-is-so-powerful/
Are we set for a new sexual revolution? – https://e-dermatologie.md/are-we-set-for-a-new-sexual-revolution/
Can you make yourself sound more attractive? – https://e-dermatologie.md/can-you-make-yourself-sound-more-attractive/
Why single people smell different – https://e-dermatologie.md/why-single-people-smell-different/
The reasons humans started kissing – https://e-dermatologie.md/the-reasons-humans-started-kissing/
Is Covid-19 changing our relationships? – https://e-dermatologie.md/is-covid-19-changing-our-relationships/
The dark side of believing in true love – https://e-dermatologie.md/the-dark-side-of-believing-in-true-love-2/
Sex and Covid: What are the rules in lockdown? – https://e-dermatologie.md/sex-and-covid-what-are-the-rules-in-lockdown/
How Hong Kong is modernizing love hotels – https://e-dermatologie.md/how-hong-kong-is-modernizing-love-hotels/
The saboteurs you can hire to end your relationship – https://e-dermatologie.md/the-saboteurs-you-can-hire-to-end-your-relationship/
Is love just a fleeting chemical high in the brain? – https://e-dermatologie.md/is-love-just-a-fleeting-chemical-high-in-the-brain/
Why promoted women are more likely to divorce? – https://e-dermatologie.md/why-promoted-women-are-more-likely-to-divorce/
What if women had total control over pregnancy? – https://e-dermatologie.md/what-if-women-had-total-control-over-pregnancy/
Virgin births: Do we need sex to reproduce? – https://e-dermatologie.md/virgin-births-do-we-need-sex-to-reproduce/
The benefits of rebounding after a break-up – https://e-dermatologie.md/the-benefits-of-rebounding-after-a-break-up/
Should prostitution be a normal profession? – https://e-dermatologie.md/should-prostitution-be-a-normal-profession/
'I'm 28 and I've never had an orgasm…' – https://e-dermatologie.md/im-28-and-ive-never-had-an-orgasm/
The dark side of believing in true love – https://e-dermatologie.md/the-dark-side-of-believing-in-true-love/
A new way to look at emotions – and how to master yours – https://e-dermatologie.md/a-new-way-to-look-at-emotions-and-how-to-master-yours/
The mystery of the female orgasm – https://e-dermatologie.md/the-mystery-of-the-female-orgasm/
Is it better to be like your partner? – https://e-dermatologie.md/is-it-better-to-be-like-your-partner/
Why sexual assault survivors forget details? – https://e-dermatologie.md/why-sexual-assault-survivors-forget-details/
Are other people's sex lives better than yours? – https://e-dermatologie.md/are-other-peoples-sex-lives-better-than-yours/
Could Love Island hold the key to lasting happiness? – https://e-dermatologie.md/could-love-island-hold-the-key-to-lasting-happiness/
I was a victim of forced marriage – https://e-dermatologie.md/i-was-a-victim-of-forced-marriage/
Is it possible to be unfaithful 'just a little bit'? – https://e-dermatologie.md/is-it-possible-to-be-unfaithful-just-a-little-bit/
Would you pay your ex a "break-up fee"? – https://e-dermatologie.md/would-you-pay-your-ex-a-break-up-fee/
"I'm sad that I didn't have sex until I was 37" – https://e-dermatologie.md/im-sad-that-i-didnt-have-sex-until-i-was-37/
Sex addiction: "Five times a day wasn't enough" – https://e-dermatologie.md/sex-addiction-five-times-a-day-wasnt-enough/
Premenstrual dysphoric disorder – a severe form of Premenstrual syndrome – https://e-dermatologie.md/premenstrual-dysphoric-disorder-a-severe-form-of-premenstrual-syndrome/
I want to break the stigma of painful sex – https://e-dermatologie.md/i-want-to-break-the-stigma-of-painful-sex/
The adult webcam industry – https://e-dermatologie.md/the-adult-webcam-industry/
The many reasons that people are having less sex – https://e-dermatologie.md/the-many-reasons-that-people-are-having-less-sex/
The invention of heterosexuality – https://e-dermatologie.md/the-invention-of-heterosexuality/