Scientists grow whole model of human embryo, without sperm or egg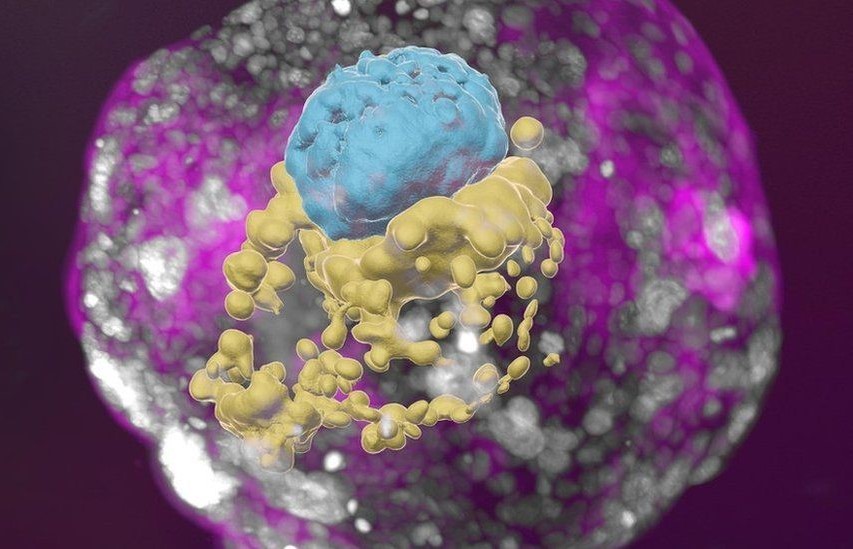 Scientists have grown an entity that closely resembles an early human embryo, without using sperm, eggs or a womb.
The Weizmann Institute team say their "embryo model", made using stem cells, looks like a textbook example of a real 14-day-old embryo.
It even released hormones that turned a pregnancy test positive in the lab.
The ambition for embryo models is to provide an ethical way of understanding the earliest moments of our lives.
The first weeks after a sperm fertilises an egg is a period of dramatic change – from a collection of indistinct cells to something that eventually becomes recognisable on a baby scan.
This crucial time is a major source of miscarriage and birth defects but poorly understood.
"It's a black box and that's not a cliche – our knowledge is very limited," Prof Jacob Hanna, from the Weizmann Institute of Science, tells me.
Embryo research is legally, ethically and technically fraught. But there is now a rapidly developing field mimicking natural embryo development.
This research, published in the journal Nature, is described by the Israeli team as the first "complete" embryo model for mimicking all the key structures that emerge in the early embryo.
"This is really a textbook image of a human day-14 embryo," Prof Hanna says, which "hasn't been done before".
Instead of a sperm and egg, the starting material was naive stem cells which were reprogrammed to gain the potential to become any type of tissue in the body.
For read the full text click here:
https://www.bbc.com/news/health-66715669?fbclid=IwAR1AoOTPM2sJzFluuuoUHamQY4zUSRj-e2WUhOy9R4d7GE0_CG86E1fUf9w
The 'life-changing' divorce coaches helping couples split – https://e-dermatologie.md/the-life-changing-divorce-coaches-helping-couples-split/
Can online dating burnout be stopped? – https://e-dermatologie.md/can-online-dating-burnout-be-stopped/
The couples taking relationship 'gap years' – https://e-dermatologie.md/the-couples-taking-relationship-gap-years/
Love and sex in 2022: The five biggest lessons of the year – https://e-dermatologie.md/love-and-sex-in-2022-the-five-biggest-lessons-of-the-year/
The exes forced to live together after breaking up – https://e-dermatologie.md/the-exes-forced-to-live-together-after-breaking-up/
Iranian women who need certificates to prove they are virgins – https://e-dermatologie.md/iranian-women-who-need-certificates-to-prove-they-are-virgins/
'I was humiliated': The continuing trauma of South Korea's spy cam victims – https://e-dermatologie.md/i-was-humiliated-the-continuing-trauma-of-south-koreas-spy-cam-victims/
How accurate are our first impressions? – https://e-dermatologie.md/how-accurate-are-our-first-impressions/
Why meeting another's gaze is so powerful? – https://e-dermatologie.md/why-meeting-anothers-gaze-is-so-powerful/
Are we set for a new sexual revolution? – https://e-dermatologie.md/are-we-set-for-a-new-sexual-revolution/
Can you make yourself sound more attractive? – https://e-dermatologie.md/can-you-make-yourself-sound-more-attractive/
Why single people smell different – https://e-dermatologie.md/why-single-people-smell-different/
The reasons humans started kissing – https://e-dermatologie.md/the-reasons-humans-started-kissing/
Is Covid-19 changing our relationships? – https://e-dermatologie.md/is-covid-19-changing-our-relationships/
The dark side of believing in true love – https://e-dermatologie.md/the-dark-side-of-believing-in-true-love-2/
Sex and Covid: What are the rules in lockdown? – https://e-dermatologie.md/sex-and-covid-what-are-the-rules-in-lockdown/
How Hong Kong is modernizing love hotels – https://e-dermatologie.md/how-hong-kong-is-modernizing-love-hotels/
The saboteurs you can hire to end your relationship – https://e-dermatologie.md/the-saboteurs-you-can-hire-to-end-your-relationship/
Is love just a fleeting chemical high in the brain? – https://e-dermatologie.md/is-love-just-a-fleeting-chemical-high-in-the-brain/
Why promoted women are more likely to divorce? – https://e-dermatologie.md/why-promoted-women-are-more-likely-to-divorce/
What if women had total control over pregnancy? – https://e-dermatologie.md/what-if-women-had-total-control-over-pregnancy/
Virgin births: Do we need sex to reproduce? – https://e-dermatologie.md/virgin-births-do-we-need-sex-to-reproduce/
The benefits of rebounding after a break-up – https://e-dermatologie.md/the-benefits-of-rebounding-after-a-break-up/
Should prostitution be a normal profession? – https://e-dermatologie.md/should-prostitution-be-a-normal-profession/
'I'm 28 and I've never had an orgasm…' – https://e-dermatologie.md/im-28-and-ive-never-had-an-orgasm/
The dark side of believing in true love – https://e-dermatologie.md/the-dark-side-of-believing-in-true-love/
A new way to look at emotions – and how to master yours – https://e-dermatologie.md/a-new-way-to-look-at-emotions-and-how-to-master-yours/
The mystery of the female orgasm – https://e-dermatologie.md/the-mystery-of-the-female-orgasm/
Is it better to be like your partner? – https://e-dermatologie.md/is-it-better-to-be-like-your-partner/
Why sexual assault survivors forget details? – https://e-dermatologie.md/why-sexual-assault-survivors-forget-details/
Are other people's sex lives better than yours? – https://e-dermatologie.md/are-other-peoples-sex-lives-better-than-yours/
Could Love Island hold the key to lasting happiness? – https://e-dermatologie.md/could-love-island-hold-the-key-to-lasting-happiness/
I was a victim of forced marriage – https://e-dermatologie.md/i-was-a-victim-of-forced-marriage/
Is it possible to be unfaithful 'just a little bit'? – https://e-dermatologie.md/is-it-possible-to-be-unfaithful-just-a-little-bit/
Would you pay your ex a "break-up fee"? – https://e-dermatologie.md/would-you-pay-your-ex-a-break-up-fee/
"I'm sad that I didn't have sex until I was 37" – https://e-dermatologie.md/im-sad-that-i-didnt-have-sex-until-i-was-37/
Sex addiction: "Five times a day wasn't enough" – https://e-dermatologie.md/sex-addiction-five-times-a-day-wasnt-enough/
Premenstrual dysphoric disorder – a severe form of Premenstrual syndrome – https://e-dermatologie.md/premenstrual-dysphoric-disorder-a-severe-form-of-premenstrual-syndrome/
I want to break the stigma of painful sex – https://e-dermatologie.md/i-want-to-break-the-stigma-of-painful-sex/
The adult webcam industry – https://e-dermatologie.md/the-adult-webcam-industry/
The many reasons that people are having less sex – https://e-dermatologie.md/the-many-reasons-that-people-are-having-less-sex/
The invention of heterosexuality – https://e-dermatologie.md/the-invention-of-heterosexuality/